BEERTWEETUP LOCATION UPDATE
(BeerTweetup is tomorrow, Wednesday 27 August – see details on regsitration link below)
There were two possible locations for the BeerTweetup; a small MicroBrewery at walking distance or a Restaurant at Warfs with a bunch of Belgian beers. The latter was a bit too far and the former was going to be too small (50people max) as the regular partners in crime that organise #UNparty want to go to the party this year. I managed to find you a better spot that has the space, the good beers AND at walking distance: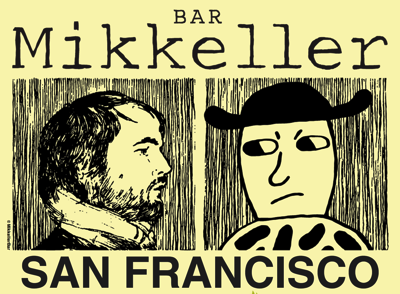 Mikkeller Bar has an impressive list of draft beers with some Belgian gems in there:
Vanderghinste Oud Bruin (Bockor)
Tarras Boulba (De la Senne)
Petrus Aged Pale Ale (Bavik)
Cuvee des Jacobins Rouge (Bockor)
Abt 12 (St-Bernardus)
Oerbier (De Dolle)
Cuvée Delphine (De Struise)
I'll be there around 8 o'clock till 11. They also have some snacks and sausage plates so you can eat htere as well. Feel free to join whenever you feel like. It's walk in-n-out. Remember: it's BYOWallet but we won't hold you from taking parts of the bill as a vendor.
I do apologise upfront that the swag did not come through on time. I'll go above and beyond for next year! Promised.
!!! START SPREADING THE NEWS !!!
BEERTWEETUP LOCATION UPDATE
—————————————-

I have made it a tradition to invite friends for a #BeerTweetup at either the last night of a convention or the night of the party. As a lot of people are already leaving Thursday afternoon, it will be during the official party, that is too crowded with bad beer anyhow, on Wednesday night.
The intent of a #StorageBeers or #vBeers for example is for people with a joint technical interest to meet up for a drink. So the logical result is that the #BeerTweetup will be about the beer! The location is TBD for now but it will not be Toronado Bar this time. Expect an awesome location as near as possible to Moscone/SOMA.
#BeerTweetup is by it's nature a BYOWallet gathering although sponsors are always allowed to pick up (parts of) the bill. This time I have gone 'the extra mile' and there is a unique SWAG item you probably don't want to miss! 
#BeerTweetup pictures
Previous #BeerTweetup events
VMware PEX 2013 – Yard House, Las Vegas
HP Discover 2013 – Yard House, Las Vegas
VMworld US 2013 – Toronado Bar, San Francisco
Interop 2013 – Valhalla, New York
VMworld EMEA 2013 – Bar Belchica, Barcelona
VMworld Social Events Calendar!
This calendar is public for you. No more excuses for not showing! Registration URLs and addresses are provided and updated in the events. Here's your LINK
tip: click look for more to go to see the events already scheduled
EXTERNAL LINKS
VMworld official Gatherings landing page
Be Social and Share: