It's not that big of a secret that I'll take a job interview that sounds interesting. How about Amazon Technical Evangelist – Rest of Europe? Not only can I imagine it, I've done it and from what I hear from other people I did that role quite well previously. For the people that don't really know what this is:
The evangelist position is a technical role with the mission of engaging the broad community of developers and IT professionals to drive excitement and usage of (AWS) tools and technologies.
In short; travelling throughout your assigned territory and trying to be awesome and spread passion to different types of people on a daily base. You'll be +50% travelling and the other days you'll be busting your ass off at home/office creating content or doing webinars, if you are not attending conference calls with technical alliance partners.
So I get a reply from HR with some practical questions:
Notice period
Salary expectations
Passport status
Please confirm you can either relocate, or are within a 60 minute commute of our Luxembourg EMEA HQ.
The first three questions are pretty straightforward but I did have a pretty honest reply to the fourth point: 
Relocate/commute: living in Belgium near Antwerp. As this role is a pretty international role, location closer to Brussels Airport will probably have more advantage than living in Luxembourg. The commute to Luxembourg as such is not that hard as well so with careful planning, relocation may not be necessary at all.
So allow me to emphasize what is happening here with a graphic:
I live in Temse, within 30 minutes of Brussels [Airport]
I'm in 20 minutes in Ghent or Antwerp
Amazon HQ is in Luxembourg
Luxembourg is over 2hrs from Brussels
Luxembourg (and everything south of dotted line) is surrounded with woods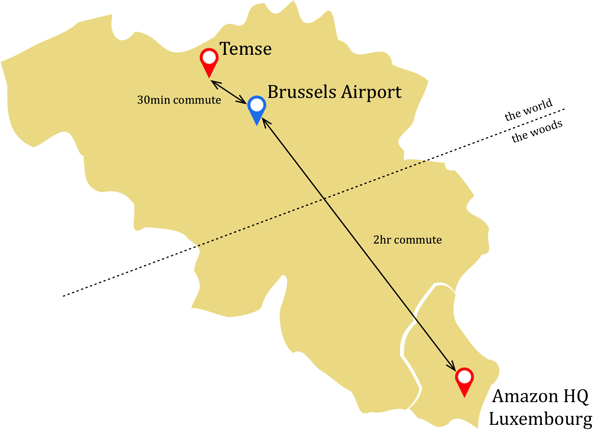 So in the end I can go to Luxembourg when I need to, it just requires some decent planning. For a +50% travelling job I could easily go 2 days to the office which would require one night staying in Luxembourg per week. And you want to relocate my family for that? I think you got your HR priorities wrong.
By the way … did I say it is AMAZON we are talking about? That made this reply from John Troyer even more hilarious for me 🙂
@HansDeLeenheer Tell them there's this thing called the Internet that lets you work from anywhere.

— John Mark Troyer (@jtroyer) May 19, 2014
This is how I ended the conversation.
Good luck finding a good candidate.
Be Social and Share: