The introduction to "book of the month" series was too long so I gave it a dedicated blogpost earlier this week.
The Back of the Napkin
This book suggestion came to me through a former colleague at Veeam, Ben Milligan (Director Veeam Cust Support NA). On a flight home from Saint-Petersburg Russia we were discussing how we explain things to colleagues and friends. Both of us truly like to explain through drawing on paper, whiteboard, … whatever is available. 
Sidenote: I remember myself on a VMworld 'testing' the walls and doors of the brand new Veeam booth for whiteboard capabilities. That didn't go very well 🙂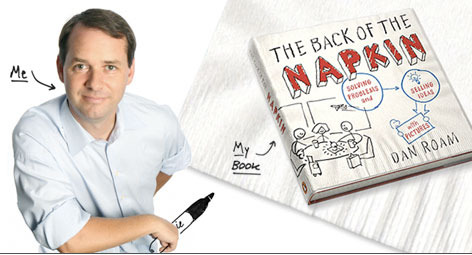 The back of the napkin is a very good guide for people that explain things through drawing or at least understand the added value of doing so. Although you somehow know how to do that in the back of your mind, having it in a structured format in a book with dozens of practical tips will definitely increase your whiteboard skills … or conversations in a bar on the back of the napkin.
Let me give you one example. The writer of this book has looked at all problem types you would want to explain in a drawing and helps you choosing the type of drawing that helps in that process and then go deeper in the practicalities of those methods. So here it goes:
Who or What? > draw a 'portrait' of the object
Quantification? > draw a graph, pie chart, …
Where? > draw a map – by the way: an organisation chart or diagram are also maps!
When? > draw a timeline, process circle, Gantt charts, …
How? > draw a flowchart
These 5 small lines look like they are just the obvious until you realise all of them are full chapters with very deep explained examples of HOW to.
Links
What's you book tip for me?
Be Social and Share: