Belgium you say? Technology you say? Sorry, couldn't resist to add a small note of sarcasm. You probably remember my rant of just a few weeks ago where the Brussels/Belgian/Flemish governments were resistant to new forms of commerce and technology (Uber/AirBnB). On the other hand one of the better export products Belgium has is knowledge economy. Where the startup scene might have lived a little underground for quite a few years we do have several players in the market now that want to give that a boost.
I was at an event yesterday from an early accelerator Idealabs and love to share with you some thoughts on the matter. 
Belgium you say?
Well, it's not that we don't have anything that is succesful or has the potential to be succesful. Let's review a few recent examples:
Storify: one of the most recent successful startups coming from Belgian soil. Storify makes it very easy to create a story and combine different media items like Instagram, Twitter or Facebook posts in one page. It's a great way to summarize an event. Storify from the founder Xavier Damman got acquired by Livefyre last year.
Drupal: did you actually know that the White House website is built on Belgian technology? I think we can definitely be proud of CTO and founder Dries Buytaert here.
Engagor: rising star Folke Lemaitre has build social media engagement platform. Started in Ghent, Folke has opened an office in Silicon Valley and is now one of those two-sides-of-the-ocean companies. Or to quote Frank Maene: Folke doubled the value of his company overnight, including it's expenses 🙂
Where's my money?
First thing most people do when starting a new adventure is finding the money. Not all of the places to go are well known or have different levels of doorsteps to get in. First thing one can do is going to the bank like you would do for buying a house. One of the projects that comes to mind here is KBC's "Start it" project.  
A second place to go is Venture Capital  (VC). I don't know that many VC firms in technology in Belgium. Probably the most well known one would be Frank Maene, with his funds Volta Ventures & Hummingbird Ventures .
Incubators/Accelerators
The problem with going to find money is that you already need a product or at least a prototype, a decent team and a business plan. If it was my money, I'd probably ask for the same. That's why we have incubators and accelerators. One of the biggest Incubators we have today is iMinds, a Flemish digital research center. It's a collaboration between universities, backed by some VC and Government capital.
The lines between incubator and accelerator are blurry. In general I'd say that incubators starting point would be product development and the accelerators' focal point would be the business. Off course one does not go without the other, hence the blur.
New kids on the block are Idealabs. Founded just 2 years ago, Idealabs is merely an accelerator. And I say merely with a huge form of respect. This is the kind of place where you can enter with a sketch or just a brainfart and ask for help to go face those VC people. And apparently that helps. During the panel session at the event Frank Maene acknowledged that 4 out of 12 startups he has listened to in the last few months already come from Idealabs. 
Telenet partners with Idealabs
The event yesterday was to officially announce that Telenet, a major telecom provider in Belgium, is backing Idealabs with at least €1.000.000 for the next 12 months. That money is going to primarily SEED FUNDING in chunks of €25.000 to €50.000 per project. There will be special Coffee Pitch moments, Lean Startup academy programs & lots of personal mentoring to give that boost I talked about in my introduction.
Here's a great graphical representation of what this story is all about: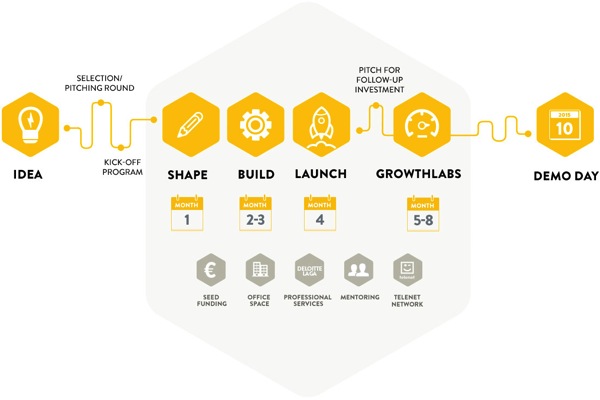 My $0.02
Although there is not that much happening on our Belgian soil that taps into my area of expertise being Datacenter Infrastructure, there is one thing that popped up at this event that makes me wonder if I can do more for our Belgian Scene:
Great point of @frankmaene! Americans sell the idea before developping it. We develop first and fail to market it. #15may @idealabs_BE

— Hans De Leenheer (@HansDeLeenheer) May 15, 2014
Maybe this was a call for me? 🙂
Video
Idealabs has published a video of the event with the panel session
Be Social and Share: