This is one I have been struggling with a lot and still am. I feel that a lot of people around me have the same problems with it as well. We sometimes completely disagree on our points on the matter which only concludes we still have a long way to go (that will never end?).
The basic problem we have is the following: someone needs to decide on budgets so we need a way to explain the value. And by extent the increased value so we can get even more budget 🙂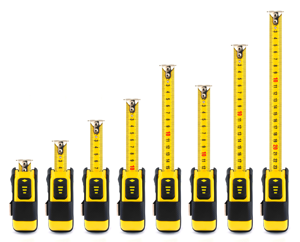 What do we measure?
One thing everyone does agree on is that we haven't found the holy-grail of Social Media metrics just yet. Over the last couple of years we had a lot of possible metrics to go after;
Eye-balls / Views / Click-through rates
Minutes per page
Likes/Shares
Retweets / Favourites
Replies / Comments
Followers / Friends / Connections / Reach
Klout score
# of articles
…
These are all very straight forward metrics but whatever the metric or a combination of metrics is showing, none of them truly shows the business value of that metric number. This is my first argument against hard metrics.
Metric ITTT attitude
The result of measuring metrics is that people will change their attitude to improve them. Of course because that adds up to their promised quarterly results. And around all these "scientific findings" emerge great tools to enhance that. Here are a few results of that quest to the Social Media holy grail of metrics (source blog.bufferapp.com):
scientific guide to writing better tweets
10 theories for greater persuasion
13 ways to gain engagement
8 winning headline strategies
…
Have you seen that most of the blog titles have a number in them? That's on purpose because it has been scientifically proven that these titles attract more readers. You know what I feel when I see those numbers? They are either rounded to have 5/10/20 and at least a few of them will be worthless or they are not rounded and that has been done on purpose as well to artificially look like an authentic list. And there are plenty of these trick to go around from the time you want to publish a scheduled tweet to more recently embedding a picture in your tweets. Lately I find myself NOT clicking on those tweets anymore because they are artificially enhanced.
My $0.02
Whatever the outcome of the quest to finding the Social Media Holy Grail of metrics, will result in an attitude change to optimize the quantification and makes that outcome irrelevant to be used in the future. Whatever your Scientific result is, the minute that it is public you'll have to start all over again. Every artificial optimization of Social Media attitude pushes you away from the true value of social media. Authenticity is the only true value to measure in Social Media and it's very easy to measure: it's yes or no!
Redactional note: this blogpost is inspired by my friend Matthew Brender (@mjbrender) and his ongoing quest for the ultimate Social Media metrics. I can only say that after almost 50 episodes on the Geek Whisperers (@Geek_Whisperers) podcast he hasn't come anything closer to convert me 🙂 I urge Matt to stop this ridiculous itch for knowledge because he is screwing with our jobs! 
(did everyone get the snarkasm here?)
Be Social and Share: