The Announcements
It's hard for #vExperts, bloggers, industry experts, … to be surprised at these events. We are so close to it all the other 51 weeks of the year that most announcements are either already known through some chatter on the Social Media platforms or we may already have been briefed. Another reason is that most announcements are just evolutionairy and fall in the category of 'this was what we expected at some point'.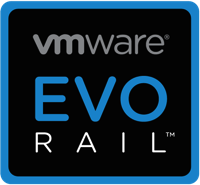 EVO-Family
We have been 'warned' that VMware was going to announce a hyperconverged platform at VMworld 2014. Under the working title Marvin we had a fair share of guessing going on. First of all I must applaud VMware for NOT going into hardware selling. VMware is and remains to the day a pure software company that simply does not have the internal structure for sales, distribution and support of hardware appliances.
This brings us to the why of EVO-family. If you simplify it, EVO (both Rail & Rack) is nothing more than VMware software, distrubuted by the OEMs. This is not new as those vendors have been selling it that way for years. Then it was only ESX(i) because that was all that was available. So why the big buzz then? In my opinion EVO is not an intent to sell more VMware. But it is a product that gives the OEM vendors an answer to the node-based datacenter architecture where Nutanix, SimpliVity and ScaleComputing have led the way.
The value of node-based architectures is NOT in the distributed storage as such. The storage layer is just the enabler of node-based architectures. The common value is in the simplification of installation and the flexibility/agility of datacenter growth. The differentiation between the products is the quality of the distributed storage layer and the infrastructure management once it is installed. All of the aforementioned products have cracked the burden of datacenter installation. When we look at the storage layer, Nutanix and SimpliViy clearly have the upperhand in maturity of the product. There is hardly a chance that Virtual SAN will be able to catch up with either one. This will boil down to the what is good-enough debate when facing the customer. All-in-all if an EVO-Rail has the same price as a Nutanix/SimpliVity node, I wouldn't hesitate for a second to buy from the leaders in this segment. I like Virtual SAN a lot but as a customer I would prefer to use a 3rd generation storage OS over a 1st generation any day.
The daily management and maintenance of the systems will barely be a differentiator as they are all playing on the same battlefield here. This is where ScaleComputing (disclaimer: customer of mine) has the upper hand. If you are a small/medium company that just cannot care about managing infrastructure at all, Scale is your partner. This not caring is mostly because you are on a way too small team and do not have time as a resource.
Note that I only spoke about RAIL here. EVO-RACK is a totally different beast which is based on OpenCompute platform. As I have no experience into that part of the market I will refrain myself for now to comment in this.
I have done my share of servers + network + storage + … installations in the past. Secondly I have always felt myself limited by the classic 5-years buying cycles and the node-based architecures finally bring that to the stop. I would love to do an in depth review of all these systems in the market. At the very least the 4 products mentioned here but I know there is more (to come). I'll see if I can get their support for this project.
Be Social and Share: