Almost ready to leave again for the single most exciting week a year for our technical (niche) community. It is both physically and mentally the most exhausting week as well. Whether you have 10 speaking sessions, running around from Moscone West to South or you have 20 interviews a day, all that is only the first half of the day before the dinners and parties go on till the early morning hours. 
Last year I covered a few tips (work hard – party hard) to take care of that physical part. Socks and shoes, taking showers and a crash break and most importantly WATER. This time I would love to have a go at the mental part.
Feel Good
I'll admit it, I have crashed mentally after heavy conference weeks like VMworld. If you've seen me there, you'll probably know why. I live it for 200%! A healthy body is nothing without a healthy mind. These are two moments I found that can help with that.
#vRelax
You'll be walking miles and miles during VMworld week. Taking care of those feet is taking care of your mind. Contact Christopher Kusek (@CXI) if you want to join him to the Foot Reflexology Center in Chinatown. The moments will probably be more ad random but whenever they'll be, it'll be just in time for you.
Pre-Breakfast prayers
This is a wonderful initiative from Scott Lowe(@Scott_Lowe). Scott has been known for someone that has a big place for religion in his life. Therefor he invites all followers of Christ, from whatever congregation or church, to join him fro a pre-breakfast prayer. Chances are you won't make it to church this week so feel free to join in on Monday, Tuesday, Wednesday at 7:45am in Yerba Buena Gardens.
What is your religion? How do you make it fit into this horrible scheduled week? Feel free to let me know and I'll help spreading the word.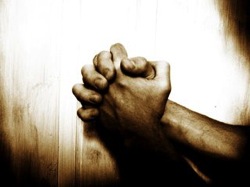 Tai-Chi anyone?
I am a raised Catholic but also a true atheist so joining in on prayers will do for me as much as having some crispy bacon and a Belgian beer on Fisherman's Wharf. Other people run 5 miles or spend an hour in the gym. My 265lbs knee- and back-injured self would not see that as a mental health moment. But in past years when I walked from breakfast to Moscone every day I have seen those people doing slow Tai-Chi before heading to work and that makes me utterly jealous. Is there someone good at this that wants to learn me? 
What is your feel good method? Preferably in the morning?
Do Good
Help a brother out
In San Francisco we are just a bunch of rich kids! We are the 1%-ers so act like it. And I mean it in the good way here. Be grateful for who you are and what you can afford. Don't forget that the money for the flight alone is something another big group of people in San Francisco will never even see together. So my assignment for you next week is: buy a slice of pizza extra, a chicken sandwich or a cup of coffee for that less fortunate man or women. Don't put it on Instagram, don't tweet it. Just do it, take that smile you'll get back and will make you do it again the next day!
Read this feel good story about old busses being reborn as mobile showers for the homeless. (Thanks Robert for sharing)
Help a sister out
I merely used last header to make this one. We have read and written dozens of articles on it over the last year so I'll make it brief: although we, white males, have the upper-hand here in numbers, every single women you'll meet could be both a head of engineering or your future CMO. DON'T BE THAT GUY!
Be Social and Share: