Lately I have been asked by resellers in the field in Belgium to help position Veeam at larger accounts. Most of those customers have tested Veeam at one point, either in a full PoC (Proof of Concept) or just in a lab. Some of them got the value immediately, others were not ready to jump but feel themselves forced today to review that statement because their legacy system is still lacking a modern approach to virtualization protection. One of the questions I get at that point is: what has Veeam done since version X.x ?
Reverse Roadmap
instead of making bold statements and hollow promisses like many do, Veeam has had this brilliant concept, and please don't trademark this 😉 , of showing the reversed roadmap. I wish more vendors did exactly this.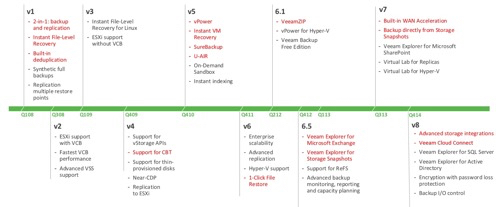 I have made my slightly more extended version of it with the intermediate patches, release dates and links to the full release notes and some meta information. Feel free to share with your prospects!
v6.5 – 31 October 2012
Veeam Explorer for Exchange
Veeam Explorer for San Snapshots (HP StoreVirtual)
Support for vSphere 5.1 (6 weeks after release)
Support for Windows Server 2012, incl Hyper-V 2012
Support for Win8
Support for SQL Server 2012
File Level Restore without staging
v6.5, Patch 1 – 24 december 2012
v6.5, Patch 2 – 11 februari 2013
only for Cloud Edition, superseded by Patch 3
v6.5, Patch 3 – 29 April 2013
v7.0 – 15 August 2013
WAN-Acceleration for Backup
SureReplica (Virtual Lab for Replicas)
Virtual Lab for Hyper-V
Self-Service Recovery
Support for Tape (incl VTL)
Backup Copy Job
Veeam Explorer for Exchange (2010/2013)
Veeam Explorer for Sharepoint (2010/2013)
SAN Snapshot support for HP StoreServ (3PAR)
Grandfather-Father-Son retention
Parallel Processing engine
Support for vCloud Director
v7.0, Patch 1 – 30 September 2013
v7.0, R2 Update – 13 November 2013
Support for vSphere 5.5 (7 weeks after release)
Support for 62TB disks
Support for Windows Server 2012 R2 & Win8.1
v7.0, Patch 3 – 13 februari 2014
1 click file level recovery for files larger than 4GB
v7.0, Patch 4 – 5 June 2014
Support for VMware VSAN
Support for SQL Server 2014
v8.0 – 6 November 2014
release notes / what's new / U-AIR extra release notes
WAN Acceleration for Replica
Replica from Backup
Failover Plans
Veeam Cloud Connect
Veeam Explorer for Active Directory
Veeam Explorer for SQL Server
Snapshot Hunter
Quick rollback
SAN Snapshot support for NetApp Cluster & 7-mode
Support for EMC DataDomain Boost
End-2-End Encryption (AES256)
Backup IO Control
v8.0, Patch 1 – 25 december 2014
v8.0, Update 2 – 28 April 2015
release notes: KB2024 / blog (Rick Vanover)
Support for vSphere 6.0 (6 weeks after release)
Support for VSAN 6.0
Support for VVOLs
Storage Policy based restores (SPBM)
Backup & Replication of Fault Tolerant VMs
vSphere 6 Tags selection
Silent Install + update of all Veeam B&R components
PowerShell support for FREE VeeamZIP
Future releases
One of the first things that jumps out is that Veeam has consistently been on top of new technologies. vSphere 5.1 and vSphere 5.5 were both supported within two months after their GA date. Do yourself a favour and compare those timings to any other competitor … (sitenote: anyone who is marketing Day-0 support is a threat to your environment and is using your companie's production as a guinea pig!). So it's probably safe to say that we can expect support from Veeam for vSphere 6 somewhere in April.
UPDATE: as expected Veeam has now released Update 2 merely 6 weeks after G.A. of vSphere 6.
Secondly I have noticed in the Veeam Community Digest newsletter from Anton Gostev (@gostev) that Veeam will no longer call the intemediate releases a Patch but rather an Update as patches have a negative connotation and an Update gives them the ability to ship new small features between major cycles. I'd say I'm the last to hold them back on that promise 🙂
Be Social and Share: