aToday you'll see plenty of blogposts about the vExpert 2015 nominations. I am proud to say I've got a hat-trick now, being recognized as one for the 3rd year in a row. Instead of just dancing around with the certificate in your/my hand, I urge you to now be grateful with that piece of paper and go do something with it! Go earn another one. But as you already know how to do that, here's my message to your employer!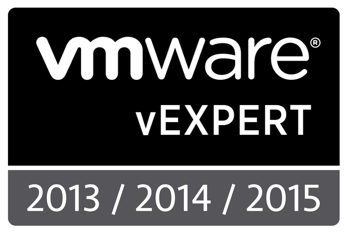 You are a Startup
I think if you are a startup in the VMware realm, you should have at least a minimum of 3 vExperts. If you don't have 3 people in your company that passionate about being in this VMware community that it shows, I have my doubts about how passionate you are as a company to be here.
Now group those vExperts, let them organise webinars, whitepapers and demos as a team. But above all: let them be ambassadors of your company! You have no idea how valuable their presence in this community is until you start listening. Wanna do influencer marketing? Here's your way in!
EXTRA: why don't you try and get at least one of them to go for VCDX? This is where your white-papers get extra credit. This is where your VMUG presentation gets its wow-factor. But if you do so: don't leave the weight on his/her shoulder. Give them everything they need to succeed!
You are a reseller
Most of the vExperts are consultants in the field (if not working at a vendor). Whether they are self-employed or working for a reseller, the company benefits in sales because of their presence in this community. Personal network right into the heart of VMware, weekly podcasts with subject experts, VMUGs all over the world and close to home, VMUG advantage, NFR licensing, pre-release briefings, sometimes even under NDA, early-access beta-software, … All of this together gives you a huge advantage over your competitors than don't have vExperts.
Now go recognize that effort. Do you even know how much time in the evenings your employee has spent to be part of this community? 'Cause it sure wasn't while they were busting their asses off for that customer of yours. Incentivise that personal time and see what more they can do for you now. Now go send your vExperts to the VMUGs and VMworld, and don't you dare taking it from their training budget, this is marketing budget! If your are lucky, they'll be on stage next time, telling about the awesome projects they get to do for your company. How about that for exposure!
You are a customer
I have the utmost respect for vExperts that work at a customer. They have no commercial benefit of being active in the community. They are here for the sake of caring for the infrastructure they feel themselves responsible for.
If you are a customer and you have vExperts on your team, you should give them a bonus! But even more so: you make sure your vExpert gets to go to every single VMUG they can. And you know why? You'll get the best infrastructure you could possibly think of! You'll know that this man/woman has first access when things goes South.
If you don't … vExperts tend to find their next step up the ladder quite soon. It's just a matter of when.
All of the above of course also counts for Cisco Champions, EMC Elects, Dell Rockstars, Microsoft MVPs, …
Be Social and Share: