So, We've had an introduction two days ago why I wanted to write some stuff on ADHD. Yesterday I shared some self-reflection tips on your career-path and feeling good about what you are doing. Today I'll start with practical life-hacks that make my life a lot easier.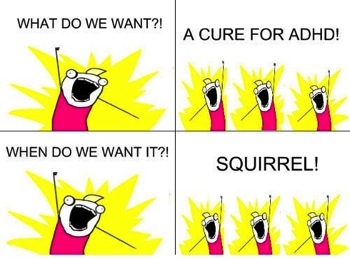 Short attention span
You are driving in your car and a very specific idea pops up in your mind (happens on the bike as well of course). You have no way to note it down so you keep repeating it in your head because you'll be home in just 2 minutes. At that last stop light before turning in your street you recognise someone coming from the opposite direction and you wave at them … BOOM, gone is that idea. Even worse: you don't even know you had an idea.
You get out of your chair, go up the stairs, walk into the bathroom … euh, what am I doing here?
I'm reading a blogpost on my iPhone that I opened from within a tweet, I get a notification of an Instant Message (IM) halfway through the read. Tap on it, get redirected to messenger and quickly reply or I'll forget it. I go to Safari/Chrome to read further on the article. Oh, it wasn't there it must be on Facebook. Going to Facebook I see an update with a funny movie and from there on I spend an hour surfing Youtube. That blogpost comes back whenever I reopen my twitter feed and it doesn't look like tweets 🙂
Feeling familiar? Happens to you? I'm sure it does. It happens to everyone. For me, it happens all day long, 24/7/365. EVERYTHING is a combination of random flashes of time.
Could you take out the trash?
If you are on your own, you could try to live with this and there is no harm done. When you work with people or live with them together this can be extremely annoying. Here's the most classic example of all times and everyone knows it:
Lynn [friendly] : could you talk out the trash, please?
Hans [uninsterested] : in a minute
Lynn [30 min later] : if you put the trash out now, we can still watch a movie together
Hans [reading twitter] : hmmmm …
Lynn [30 min later] : am I going to have to do it by myself again?
Hans [oops] : sorry honey! give me just a second [finishing an important email]
1hr later … Lynn has taken out the trash. I haven't even noticed 48 hrs later
It's a classic example that relates to everyone but it's the easiest way to explain the life-hack I found to deal with small tasks like this.
Can I do it NOW?
What Lynn can't know when I say "in a minute" is what I am doing at the time and how important that is to me that I finish it before it gets completely lost. That email for example could be worthless if I stopped working on it and take out the trash. But catching up on twitter can hardly be seen as a priority here.
So the question I ask myself now when a task pops up: Can I do this NOW? This seems logic to you of course but the result of that question is what is important. If I can stop doing what I was doing and make time for that task, I'll drop everything and do it immediately. If I can't stop, I'll say that. At this point we both know that I will forget about the question in one second so it will never happen if it's not asked a second time.
Knowing that changes the whole conversation. Lynn will ask the same question again a little later and I'll ask myself the same question again: can I do this now? I am no longer annoyed by being asked twice or more and Lynn knows that I will remember she already asked so I will up the priority of her request over what I am doing.
This system is not perfect but it's a lot better than it used to be. There is a ton of shit that now gets done immediately, there is a second part that gets done be me later than immediately and only a small portion will in the end be done by her.
These tips can help you as well but are necessary to me. Next up? You didn't tell me to pick up the kids. 🙂
Be Social and Share: